Dr. Müller ViroPower 6000
https://ml4pp562r7eh.i.optimole.com/mI-QYwg.sRKE~5cfbb/w:1024/h:373/q:90/https://drmuller.com/wp-content/uploads/DrMuller-ViroPower-1920x700_header_1.jpg
1024
373
Dr. Müller
https://ml4pp562r7eh.i.optimole.com/mI-QYwg.sRKE~5cfbb/w:1024/h:373/q:90/https://drmuller.com/wp-content/uploads/DrMuller-ViroPower-1920x700_header_1.jpg
Dr. Müller ViroPower 6000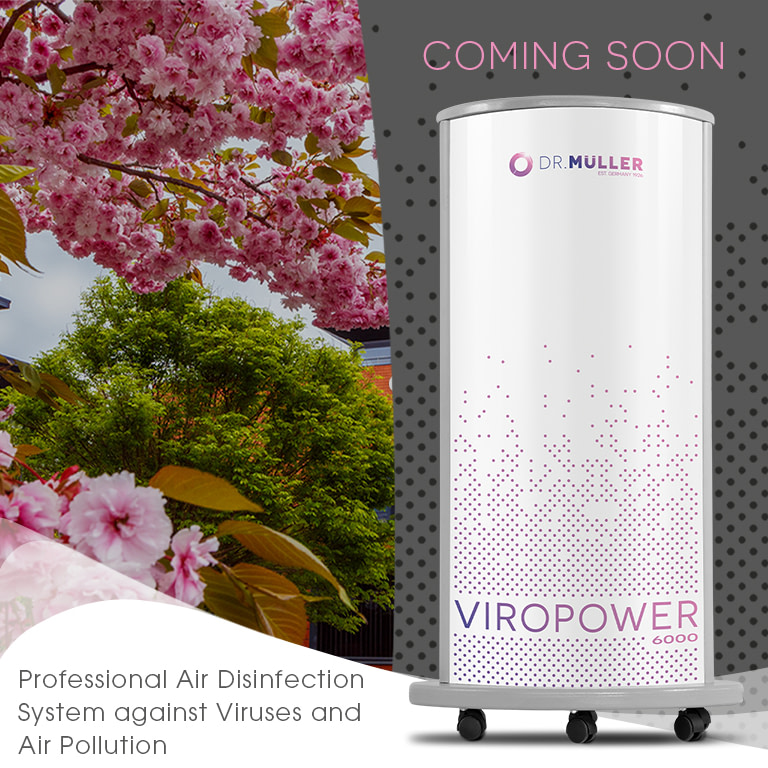 Press Release
Dr. Müller Introduces the ViroPower 6000; a mobile UVC air cleaning device with an extra HEPA filter.
The advice for areas where a group of people gather, work, and relax is that proper ventilation must be provided to prevent contamination via air particles. However, many locations don't have the infrastructure or require major technical adjustments to the existing ventilation system to meet these requirements. Fortunately, you can disinfect the air with UVC Light.
UVC rays, like UVA and UVB, are part of the sun's UV light spectrum. Whereas UVA and UVB rays can reach the earth's surface, UVC rays are blocked by the ozone layer. Studies indicate that UVC radiation can effectively destroy bacteria and viruses within seconds.
Countless organizations already use UVC technology to clean and disinfect surfaces. Even so, direct UVC radiation on the skin and or eyes can be harmful. Air purification systems with UVC is also a well-known technique, but has so far mainly been implemented at an industrial level
or is not available for other practices.
Dr. Muller has developed the ViroPower 6000, a device that uses UVC Light safely and responsibly. The ViroPower 6000 cleanses the surrounding air of, for example, meeting rooms, waiting rooms, classrooms, dressing rooms, shops, showrooms, (company) canteens, etc. without the need of complicated and costly modifications. The ViroPower 6000 is a mobile device that fits into any interior in terms of aesthetics and requires only a power outlet.
Through 6 ozone-free Dr. Müller UVC lamps of 25 watts each and a sophisticated airflow with 2 high-quality fans that can be switched in 2 stages, the air in rooms up to 300m3 can be adequately disinfected. Also, the ViroPower 6000 has an interchangeable HEPA filter to sift (fine) dust, like pollen and pet dander. Dr. Müller guarantees that the ViroPower 6000 effectively cleanses 99.9% of the surrounding air.
The ViroPower 6000 doesn't require a lot of maintenance. The lamps last a minimum of 9000 hours, and the filter should be changed every 3 months (if used continuously), which is located in a handy removable cartridge on the back of the device. The UVC lamps are in a closed compartment in the ViroPower 6000 and no direct UVC Light can come out.
• Improves the surrounding air up to 300m3
• Eliminates 99.9% of viruses and bacteria
• Decreases infection and sick leave
• Increases the safety of employees and customers
• Lasts 9000 hours
• Neutralises harmful particles (pollen, pet dander, dust mites, and tobacco smoke)
The Dr. Müller ViroPower 6000 will be available from September 1, 2020, through the worldwide network of Dr. Müller distributors. Also, you can place a pre-order on our website. For more information, visit www.viropower.com and follow Dr. Müller ViroPower via our various social media channels:
About Dr. Müller:
Dr. Müller is the renowned manufacturers of light therapy and UV devices and technologies. It was Dr Ing. Felix Müller from Essen (Germany) who in 1926 was the first to invent the UV lamp for health purposes. This technology is used worldwide in tanning beds and UV chambers against skin diseases such as psoriasis and boosting the immune system.
Since 2008, Dr. Müller is part of the Zonnepark Group, of which Ultrasun International BV (1974) is also part of; one of the most renowned manufacturers of (professional) tanning equipment.
By combining our knowledge about UV Light and electrical devices, this group of companies can market a working UVC air disinfection machine in record time. Dr. Müller produces the device at their headquarters in the Netherlands.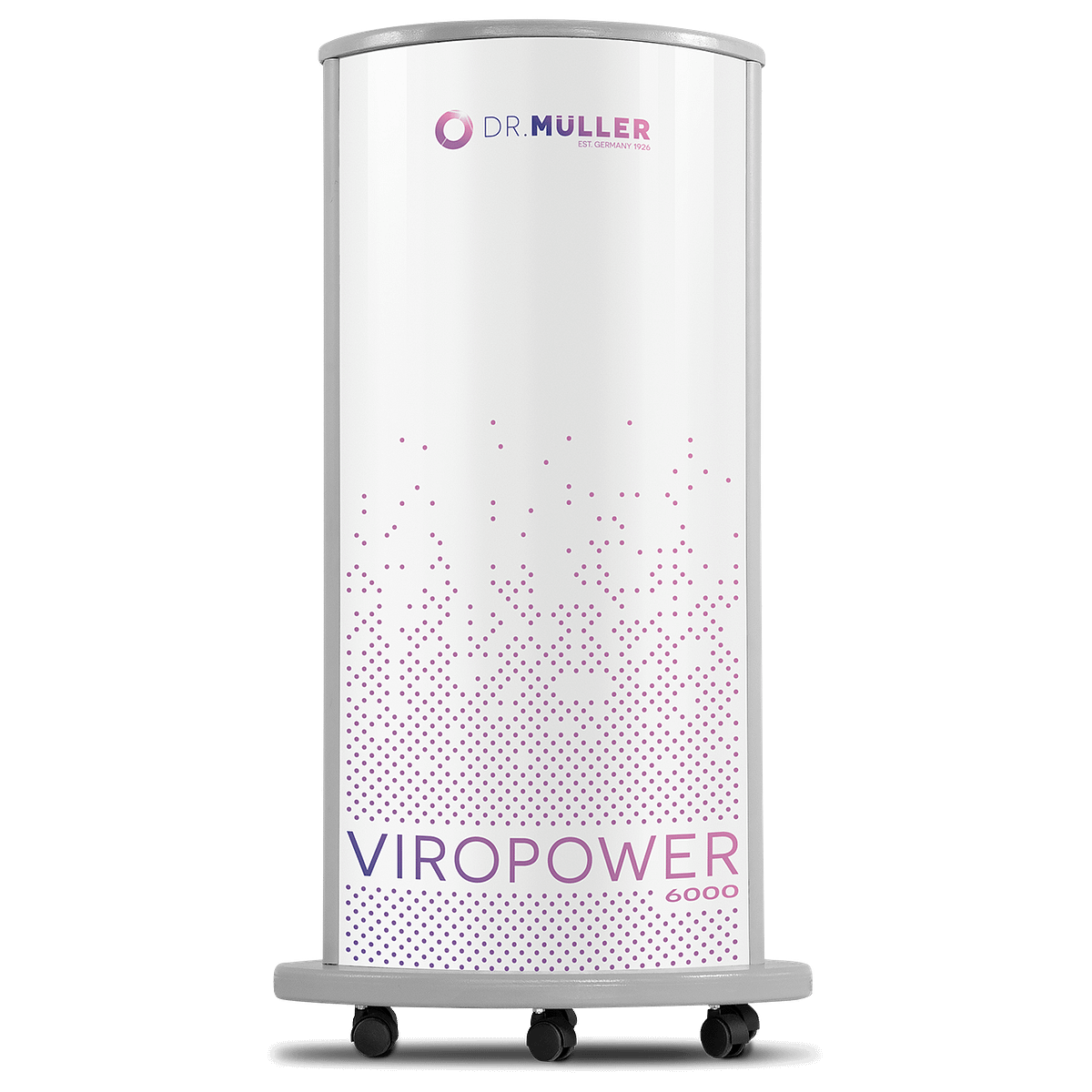 Place Your Order
The Dr. Müller ViroPower 6000 will be available on September 1, 2020 through the worldwide network of Dr. Müller distributors.
You can place a pre-order by filling the contact form below.